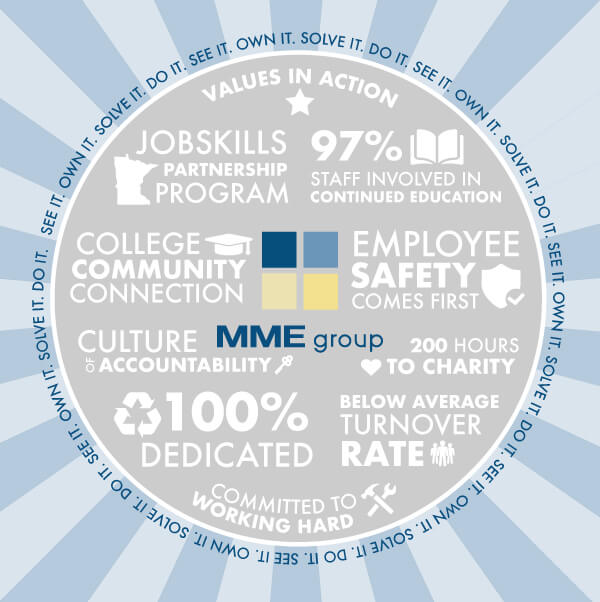 At MME Group, there is more to our business than making products or turning a dollar.  We strive to better our world, community, staff, and the environment at every possible turn.  We believe a level of fulfillment is achieved across the board from our efforts.   These words can often be lip service in business today, but we walk the walk.
It starts with an unwavering commitment from our Owners to encourage all employees to take paid time away from work to give back.  Staff can self-select or choose from many options to be stewards in the community.
When you make products there is inherent waste which is especially apparent in our industry.  Beyond the skilled engineering that reduces the waste in the design, the waste from operations is recycled at MME.  Tons of materials, like various grades plastic, are collected, stored, and sent away to be reused.
A source of extreme pride is our safety and performance record.  We have received ratings that exceed all industry standards in all categories.  Our third party consultants regard our performance exceptional.  This not only creates a safe and secure environment for work to be done, but the company can operate with profound efficiency under such conditions.
The value of a manufacturing skill goes beyond a paycheck.  Making products in America means so much more now than ever when it becomes harder to compete internationally.  Our culture envelops the American spirit of hard work and pride.  We encourage future generations to enter our trade through hundreds of our hours we donate to the local community college.  We promote "a culture of accountability," marked by the MME Mantra; See It, Own It, Solve It, Do It.
Organizations including Minnesota Parkinson's Foundation, Toys For Tots, American Red Cross Blood Drives and Walk to End Hunger benefit from the time and money dedicated from MME.  What does this summary of social responsibility say about MME?  We say, "Let it speak for itself."  We do it because we should, not because people think we should.