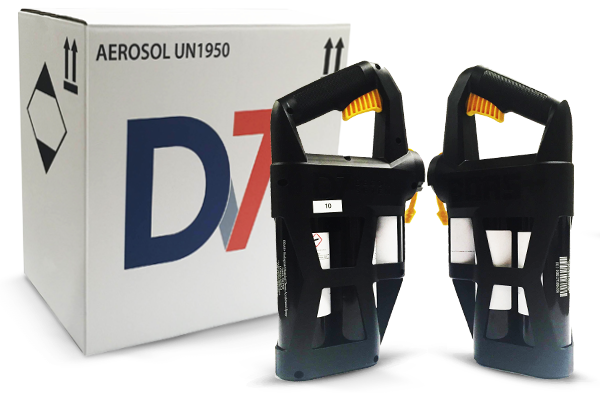 At MME we're firm believers in the power of collaboration.
A product's journey from concept to completion requires a highly specialized combination of talent and technology, and a seamless convergence of design, engineering and manufacturing.
All of these elements aligned when we partnered with Decon7 Systems (D7) to produce their patented multi-part application system.
The Decon7 Biological Decontaminant Accelerated Spray Plus (BDAS+) is a breakthrough solution to the complex chemical and engineering issues of containing the world's most effective military grade decontaminant in an individual rapid response application system.  Combining familiar operation steps similar to a fire extinguisher, but with improved ergonomics tailored to the task and user, warfighters and first responders now have access to a truly immediate decon solution.
The Decon7 BDAS+ is ready-to-use (RTU), lightweight, portable, and rapidly deployable.  It neutralizes chemical and biological warfare agents (CBWs), hazardous industrial chemicals (TICs), volatile organic compounds (VOCs), bodily fluids, bacteria and viruses. 
Three liquid components are contained in three bag-on-valve cylinders, protected by a roll cage-inspired, slatted casework made from high-impact plastic that provides excellent impact and drop-resistance.  Through careful material selection, component reduction, and designing the product for ease of assembly and simplified manufacturing, Decon7 and MME were able to balance the need for ruggedness and durability with the demand for a disposable product.

There's no margin for error when manufacturing a product that will significantly enhance the safety of military and first responder personnel in crisis situations and extreme environments.
With that in mind, D7 was understandably diligent and thorough in their vetting of potential partners.  Some of their essential needs and "non-negotiables" were:
USA MADE

ITAR Registered Facility

Essential Price Point

Production Scalability

Packaging Design Team

Hazmat Shipping Certified Supplier
"MME was able to offer all of the critical elements we required in a contract manufacturer, including an experienced team we knew we could trust.  The MME team collaborated with our design and engineering firm on every detail, working together to efficiently execute the production plan.  Seeing our pilot product fully assembled, packaged, and ready for distribution was a fulfilling achievement for the Decon7 team." – Matt Bluhm, CEO Decon7 Systems LLC
Thanks to stellar communication and collaboration between MME and Decon7 Systems, the D7 BDAS+ design is now a real life tool available for our brave first responders and we must say this expertly crafted, vital product is a great source of pride for both companies.
Please learn more about this project, customer, MME and other details.